Why Do Vehicles Need 2-Pin Automotive Electrical Connectors
Automotive connectors are one of those parts of an automobile that's hidden but perform important functions. These connectors are responsible for keeping the wire connections safe from water or moisture which can potentially damage the entire circuit causing unnecessary and avoidable harm to the automobile.
2-Pin Automotive Electrical Connectors
2-Pin automotive electrical connectors perform the same function as any other automotive connectors. The difference lies in its physical structure.
There are many types of automotive electrical connectors used for different functions and for different locations. 2-Pin automotive electrical connectors have two terminals and are encased in a thick plastic connector housing that helps keep the terminals safe from damage or water.
2-Pin automotive electrical connectors are present in the automobile parts that are open to the environment and need to be perfectly sealed against dust, ingress, and moisture. These connectors also have heat resistance to protect them from melting due to the increasing temperature of the wires. In addition to all that, the connectors also need to resist the vibrations due to the vehicle movement.
It's due to these high demands of a vehicle wiring system that these 2 Pin automotive electrical connectors are designed to be durable, tough, and have secure locking mechanisms to avoid unwanted disconnect of the wires.
Applications Of The 2 Pin Automotive Electrical Connectors
These 2 Pin Automotive Electrical Connectors are not only useful for vehicles and other requirements in the automotive industry but also as a relevant accessory as an insertion or extraction tool.
In the automotive industry, these 2 Pin Automotive Electrical Connectors can be used for most automotive wire harnesses, cars, vans, or even caravans. With some alterations and additional accessories, these can also be used for whether bikes, motocross, and boating as well. The immense protection against water and moisture makes them safe to use in vehicles with an increased exposure to wet areas.
Moreover, the kind of insulation that these connectors offer make them safe to use in all exposed areas of a vehicle, whether it's the engine, the bottom of the chassis, or the horn box.
This increased safety and insulation give you the following benefits: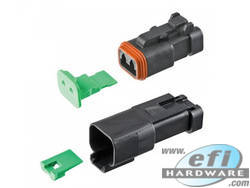 1.      Environmentally Sealed
Makes the wire connection strong against all kinds of weather conditions whether it is scorching heat, freezing cold, or a heavy downpour. It will keep the wire connection moist-free to not only avoid shock or short-circuit but also keep the copper wires from corroding.
2.      Secure Mating
There's no point in connecting two wires if they aren't fastened tight enough. When the mating between the two wires is weak or loose, they might come out altogether at even the slightest difference in tension. 2 Pin Automotive Electrical Connectors makes your wire connection safe from unwiring.
3.      Heat Resistant Properties
Insulations that come with these 2 Pin Automotive Electrical Connectors are quite effective in resisting the heat that's generated in the copper wires due to the continuous flow of electricity through them.
4.      Easy to Assemble
With the separated kit of the connectors, assembling the connector seems like a daunting task which it is not. It's super easy to assemble and can be done by anyone without any professional help.
Using Electrical Connectors in your vehicles will not only help you save your batteries and power but also save you from electric shock which could even prove fatal if the shock is intense enough. These electrical connectors will make sure that no water, moisture, air, or dirt can enter the connection point which could lead to the damage of the entire circuit or the corrosion of the copper wires inside.